Pure Beeswax Pillar Candles: Pure Beeswax Candles are valued for their hypo-allergenic, long-burning qualities & natural warm tones. They are unscented yet retain the scent of warm honey while burning which is ideal for sensitive environments. They have long been used by churches for purification and symbolism.
Pure Beeswax Pillar Candles come in three sizes:
Small 2"x3" ~ $8
Medium 3"x4" ~$15
Large 3"x6" ~ $21

We now have an Order Form and not a shopping cart. Payment is still through PayPal.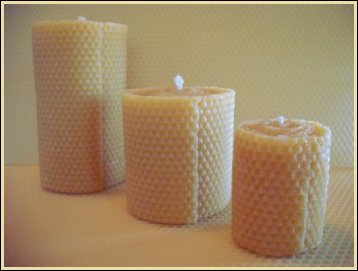 Please remember that medium and large pillars (3" diameter) should be burned a minimum of 4 hours or longer to optimize burn quality. These candles can burn up to 120 hours or longer. Tapers will burn 8-10 hours but do not require a four hour burn as the larger pillars do. Be mindful of drafts and ceiling fans above or near tapers which can affect burn quality. Never leave a burning candle unattended. Candles and soap now wrapped in Biolefin (biodegradable shrinkwrap not derived from PVC).